Artsci Books
Modifications for Alinco, Yaesu. Standard, ADI Etc - Radio/Tech 14B
| | | | | | | |
| --- | --- | --- | --- | --- | --- | --- |
| | Size: Radio/Tech 14B | | PRICE: $19.95 | | | |


Radio/Tech 14B contains all the known modifications for Alinco, Yaesu, Standard, ADI (Premier), AZDEN, K D K , TEN TEC, RANGER, UNIDEN, RADIO SHACK, RCI, HEATHKIT Amateur radios.


The Radio/Tech Modification books are indispensable tools for radio repair technicians and amateur radio hobbyists who are serious about enhancing radio transceivers and scanners.

Modifications are presented that increase the radios frequency transmit and reception coverage. Many of the modifications will allow a radio or scanner to monitor cellular phone calls.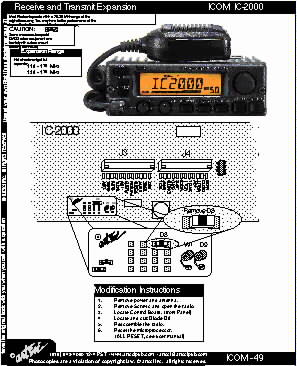 The two volume set contains modification information for all popular handy-talkies, mobile, and base stations. Modifications for a wide variety of scanners and CB radios are also there in concise, easy to follow, instructions. Additionally, alignment controls for many of the radios are presented in graphic line drawings.
208 pages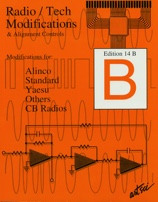 Modifications for Alinco, Yaesu. Standard, ADI Etc
| | | | | |
| --- | --- | --- | --- | --- |
| | Size: Radio/Tech 14B | | PRICE: $19.95 | |